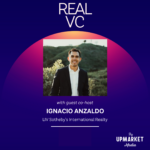 Welcome the Real VC, a podcast all about Ventura County Real Estate! In this inaugural episode, CEO of Upmarket Media and host, Reed Fish, is joined by this week's co-host, Ignacio Anzaldo of LIV Sotheby's International Realty in Ventura to talk about current market conditions in VC while offering strategies to help REALTORs grow their businesses even during this tough market. Every episode of Real VC will also feature our Social Media Sidebar, a dedicated discussion on trends and strategies for Social Media, our Listing of the Week where we highlight an interesting new listing in VC and our Marketing Moment which will be all about strategies and advice to market yourself as a REALTOR. Each episode will end with Action Items, where each host will offer up one simple thing anyone can do to help grow their real estate business!
Our sponsors for this episode are:
Choice Home Warranty – Where Tamara Rossie-Molina will give you an exceptional home warranty experience. Call 805-660-2432.
Upmarket Media – A one-stop shop for all your marketing needs. Photos, Video, Aerials, Matterport 3D, Websites and more! Book a shoot at their website or text/call 805-243-1499.
To stay updated on the podcast, follow Upmarket Media on Instagram. Ignacio Anzaldo can be found @ignacio_anzaldo.
Thank you for listening!